June 2018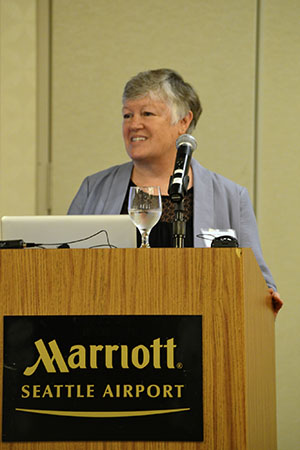 For the first time ever, a diverse group of more than 100 Region X home visiting, infant mental health, and reflective supervision professionals joined early learning policy makers, Model Rep's and other allied professionals in SeaTac, WA on May 8th for the Region X Innovation Grant Summit on Reflective Supervision Guidelines.
The day started early with a hearty breakfast and warm welcome from Jamie Elzea, Executive Director of the Washington Association of Infant Mental Health (WA-AIMH), the organization leading the Innovation Grant's GUIDE work. Supported by each of Region X's state infant mental health organizations (AKAIMH; AimEarlyIdaho; ORAIMHA) WA-AIMH convened a Regional Reflective Supervision and Consultation Collaborative in 2017, bringing infant mental health experts together with state home visiting leads to begin the work of creating  a common understanding of Reflective Supervision and to develop Regional RS guidelines to help home visiting programs in our region deepen reflective practices to better meet the needs of home visitors and families.
The Summit's morning activities provided the context for the day's purpose and included Judy King, DEL's Strengthening Families WA Administrator providing an overview of how the reflective supervision work fits into the Innovation Grant's goal of building a robust regional home visiting workforce. This set the stage for RS Consultant Jacqui Van Horn's keynote address "On Becoming Reflective; How Guidelines and Recommended Practices can Support Continued Development of Reflective Skills." Jacqui's presentation was full of practical considerations around RS work, such as looking at the definitions and differences between administrative, clinical and reflective supervision and acknowledging how each is important in its own way and all are vital to supporting home visiting work. We will keep you posted on when the link to the video of the keynote address becomes available.
Following the keynote address, participants were able to observe a confidential "fishbowl" demonstration of Jacqui providing reflective supervision to a volunteer home visitor. Handouts offered reflective questions to consider when watching the demonstration and led to the first of many robust table conversations held throughout the day.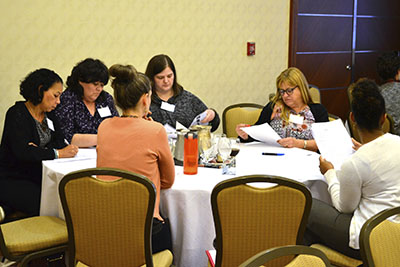 But the afternoon of the Summit is where the real magic happened and the participants became the stars of the show! Given a summary draft of the guidelines, attendees were invited to participate in several rounds of Community Café breakouts that brought cross-state pollination of ideas and suggestions, state specific opportunities for discussion, and whole group report outs on key feedback for each of the 6 Key Reflective Supervision Principles presented. Our regional stakeholders and experts provided rich, insightful input and suggestions, which have been collected and will help refine the content of the Regional Reflective Supervision Guidelines, scheduled to be distributed to home visiting programs in late 2018.
Here's a quick peak at the 6 Key Principles reviewed:
Reflection is a developmental process that is influenced by past experiences, the current situation, and how one's neurological system processes information.
Reflective supervision occurs within a relationship that is created over time by both the supervisor and the home visitor.
Reflective supervision requires an intentional slowing down and stepping back when exploring home visiting relationships and work
Feelings matter: Relationships and interpersonal interactions (families, home visiting, supervision) evoke emotions.
Parallel process is intentionally explored through reflective supervision as a way of understanding how relationships (past and present) impact relationships.
Reflective supervisors require ongoing training, support in the form of reflective supervision and consultation provided to them, and administrative support.
Moving Forward with the Guidelines
 As the day wound down and Benjamin Hazelton, Oregon's MIECHV state lead, provided closing remarks about the work moving forward, one couldn't help but be proud of Region X for the depth of expertise in our field; for the shared commitment to supporting the home visiting workforce; for the fierce advocacy for local area programs to receive the support they need to grow their Reflective Supervision practices. Feedback was generous and courageous; reflected the same compassion and humility we see in the home visiting field every day; and no doubt, will guide the Reflective Supervision Collaborative toward a set of guidelines that honors and reflects our field as we are today, while providing a view of how we hope to grow and learn as we serve the families we meet tomorrow.