November 2018
In the October Home Visiting Newsletter, we talked about how the Innovation Grant's Big 3 Human-Centered Design Workshops will be happening in Alaska, Idaho, Oregon and Washington throughout October and November. Anthro-Tech, a human-centered design consultancy based in Olympia, Washington has been facilitating these workshops. Idaho, Oregon, and Washington's workshops are complete, and the Alaska Design Workshop will be held at the end of this month. Below is a recap of the Washington State workshop written by our friends at Anthro-Tech: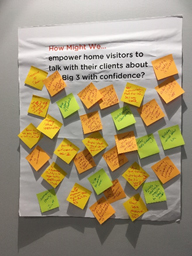 The goal of a Design Workshops is to bring together home visitors, supervisors, and subject matter experts in home visiting programs, the Big 3 (domestic violence, substance use, mental health), and other related fields, to collaborate and co-create innovations and solutions that will support home visitors in their work. On November 6th we facilitated a Design Workshop with 12 participants from across Washington State.
Participants began the day with a quick crash course in human-centered design, (HCD) learning about the principles and primary methods of an HCD process. This was followed by a rich discussion on key barriers home visitors face when supporting clients experiencing the Big 3 (domestic violence, substance use, mental health). This discussion touched on participant experiences with building trust with a family who may be experiencing one of the Big 3, paperwork home visitors are required to collect as part of their job, difficulties connecting a family to resources after they disclose, and having enough time and program support for self-care.
From this discussion, participants learned about "ideation" – or rapid, creative brainstorming. Over the course of 45 minutes, participants brainstormed 313 ideas on ways to support home visitors working with families experiencing the Big 3! 313!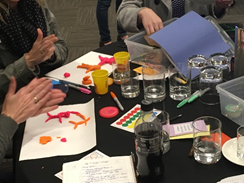 The rest of the afternoon participants went through a process we call Focus & Prototyping. In small groups of 3 or 4, participants chose one idea they wanted to focus on and spent the remaining workshop time building out this idea. They used props like playdoh, pipe cleaners, and construction paper to first visualize their new innovation and add detail. They then sketched the innovation and listed out all the things that would get better for home visitors and families if the innovation existed right now. Finally, they gave each other feedback on their ideas, and updated their first prototype based on the group's feedback. At the end of the day there were 4 brand-new 'prototypes', or new innovations to support home visitors working with families experiencing the Big 3.
We're grateful for all who participated, and thank them for bringing an open, creative mindset to the day's activities. We look forward to our Alaska Workshop, and to synthesizing the rich ideas and insights shared by home visitors and subject matter experts across Region X to identify opportunities for innovations that will support home visitors' work with families experiencing the Big 3.