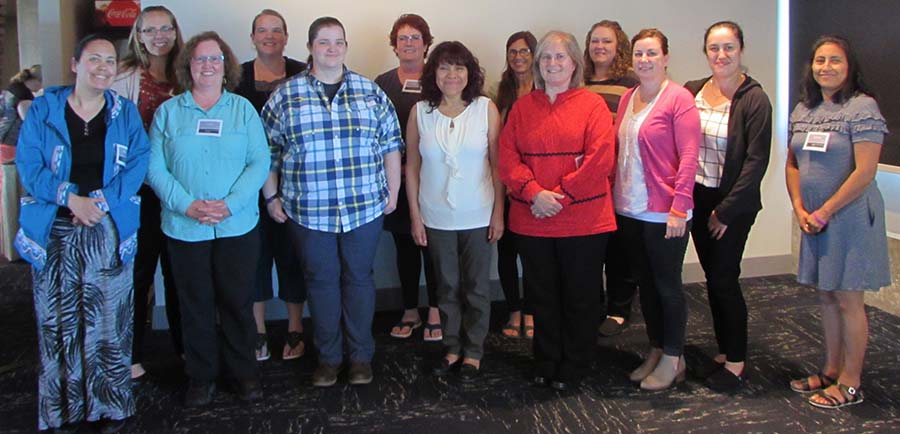 ---
It started on a whiteboard.
Three years ago it was just an idea, a process really, scribbled on a white board in a state office. In 2016, the US Department of Health and Human Services announced a unique home visiting funding opportunity – create an innovation to transform home visiting, something that could one day be replicated across the country.
Then Strengthening Families Washington Administrator Judy King and Home Visiting Lead Laura Alfani put their heads together and came up with a plan. And plan big they did. An idea that included not just a strategy for Washington State, but one for all of Region X – Idaho, Alaska, Oregon and Washington.
Those were the words written on the whiteboard, and the words that steered the grant.
The focus was to develop and retain a trained, highly skilled home visiting workforce across the region. It began with learning who made up the home visiting workforce by conducting a regional home visiting workforce study. Next, it was about guiding the home visiting field by creating a shared vocabulary and understanding of Reflective Supervision in the form of Reflective Supervision Guidelines. The grant work also included building the capacity of Home Visitors and supervisors by offering capacity-building professional development that included the Fussy Baby Network's FAN training, Thrive Washington's NEAR@Home Toolkit and unique Human Centered Design Workshops. Finally, home visitors and supervisors throughout the region provided vital feedback on these training experiences by participating in a comprehensive evaluation of their learning experience.
This June, three years of hard work came to fruition – not completion, because the real work of supporting Professional Development for the Home Visiting Workforce is an ongoing process. For two days in June, close to 60 Region X Innovation Grant partners from Alaska, Idaho, Oregon and Washington came together for an in-person Integration Summit, engaging in a collective dialogue about themes that have emerged from the Innovation work that's happened these past two years and how this work could inform supporting "best practices" in home visiting workforce development moving forward. The grant partners, including home visitors and supervisors from all four states, participated in deep perspective taking, meaning making and celebration of each other's contributions.
Participants also heard rich analysis of the data collected from the Workforce Study, as well as the Evaluation conducted of the FAN, NEAR and Design Workshop Innovations, while home visitors and supervisors shared experiences of families.
"Home Visiting work is complex work requiring deep commitment and compassion," Home Visiting Workforce Specialist and Innovation Grant lead Nina Evers said. "These values were present throughout the Summit and reflected each and every participant. Voices were graciously used to share vulnerabilities and to challenge each other to be their best selves. There were no easy answers but there seemed to be a renewed sense of gratitude for the benefits of working together as a region, for the power of the home visitor voice to describe what is needed; for a full awareness of the importance of each and every person's contributions to professional development."
Although the grant period is drawing to a close, the work is still continuing. The many tangibles from the grant period - including the Reflective Supervision Guidelines, the FAN and NEAR team-based supports, and the Workforce Study and the Evaluation, will all continue to inform workforce support moving forward and the impact of this work was heard in many ways during the Summit:
About the Workforce Study: "To have that now is such a powerful tool," Oregon's Home Visiting Workforce Development Coordinator Kerry Cassidy Norton said.

"It's accelerated the maturity of Reflective Supervision in our state," Oregon's MIECHV Project Coordinator Benjamin Hazelton said, commenting on the Reflective Supervision Guidelines.
Then there are the intangibles. The partnerships formed through this work. "The richness of what we've learned is from our partnerships," NEAR@Home Lead Facilitator Quen Zorrah said.
While so many voices were present at the Integration Summit, the real heroes of the Innovation Grant are the 700+ Home Visitors, Supervisors and Local Home Visiting Agencies who've helped Region X states LEARN; who GUIDED us in understanding the vital importance of Reflective Practices in Home Visiting; who BUILT our capacity with their generous feedback via the Workforce Study and Evaluation, ensuring that we will continue to grow our ability to support Workforce Development in the future. Thank you Home Visiting field!