June 27, 2019
Ross Hunter, Secretary of the Department of Children, Youth, and Families (DCYF) visited this year's Camp To Belong Washington, a camp dedicated to reuniting siblings separated by foster care, adoption or kinship.
The five-day summer camp is held at Miracle Ranch at Port Orchard, Wash., and features activities specially designed to help siblings re-connect and strengthen their bonds. This year, the camp reunited 104 siblings. Since the camp began in 2009, more than 1,000 brothers and sisters have been reunited.
"Maintaining sibling connections is an important part of the work we do to support children within our care," said Hunter, while visiting the camp on June 26. "Every kid deserves a special place where they finally feel like they fit in and aren't judged for being in foster care."
DCYF continues to support the camp financially along with camp leaders who raise private money and hundreds of volunteers, including DCYF staff, pitch in to help make the camp a success. The agency contributes $50,000 annually to camp operations. In addition, using federal Independent Living funds, they contribute $15,000 to provide campers 14 years and older an in-depth look at resources available to them.
"It is a true partnership in the best sense of the world," said Bob Partlow, assistant director for Camp To Belong.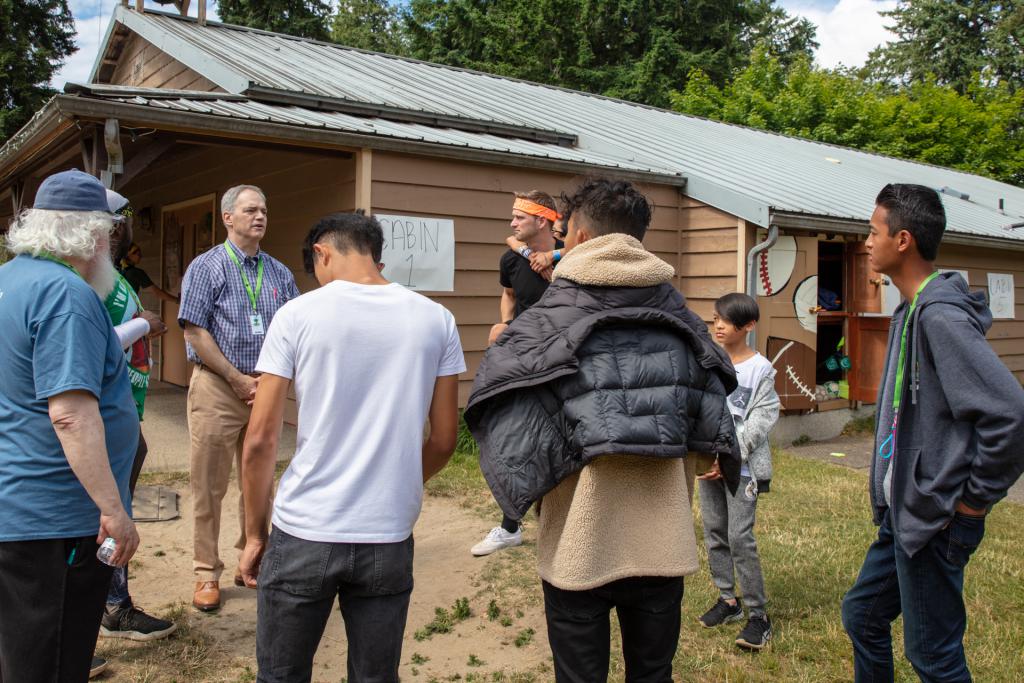 In addition, Camp To Belong started day-long sibling events across the state and has plans to open a second camp in eastern Washington in 2020. The camp is part of a network that includes camps in 12 states and Australia. Campers enjoy summer camp activities plus special events designed to strengthen their sibling connection.
"Having Secretary Hunter at the camp clearly shows his commitment to kids and keeping siblings connected. He was able to talk to quite a few of our campers and counselors, some of whom have been in foster care and grew up in camp only to later become counselors," Partlow said. "We are grateful he was willing to come to see first-hand one of the really bright spots of the foster care system."