Share Community Stories. Build Community Voice. Develop Community Plans to Strengthen Families Locally.
Join parents, volunteers, community agencies, schools, tribes, and the Department of Children, Youth and Families in building stronger, healthier communities and families. Strengthen Families Locally aims to increase family resilience, and reduce rates of child maltreatment and entry into foster care in target communities.
DCYF is receiving funding from the Administration for Children, Youth and Families to work with community members in Bremerton, Port Angeles/Sequim, Spokane and Stevens County. We are partnering with community organizations, government, tribes, schools, families, and volunteers in these service areas to design community-driven solutions to prevent child abuse and strengthen community supports for families.
What successes or challenges has your family faced recently? We are prioritizing the voices of families and youth to design community-based family strengthening programs. We are collecting stories through the University of Kansas Our Tomorrows Story Project.  Families and community partners will work with DCYF to understand the stories together and use them to plan Strengthen Families Locally and DCYF prevention activities. More information about this project can be found on the flyer and you can share a story.
This project was funded by the Children's Bureau, Administration on Children, Youth and Families, Administration for Children and Families, U.S. Department of Health and Human Services, under grant #90CA1866. The contents of this website are solely the responsibility of the authors and do not necessarily represent the official views of the Children's Bureau.
Goals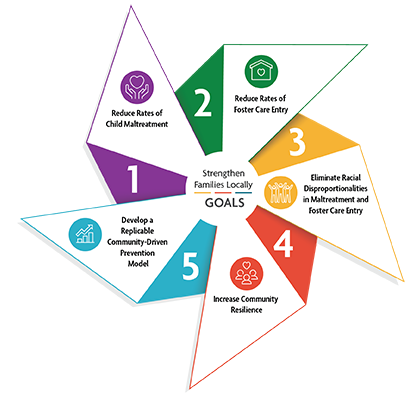 DCYF seeks to partner with the community in service areas to:
Reduce rates of child maltreatment
Reduce rates of foster care entry
Eliminate racial disproportionalities in maltreatment and foster care entry
Increase community resilience
Develop a replicable community-driven prevention model
Six Core Principles
Based on past research and best practices for community-driven approaches to child abuse prevention, DCYF is committed to the following principles in Strengthen Families Locally:
Approaches will be strengths-based, culturally appropriate and inclusive
Mobilization will occur at multiple levels, including state government, local government, local non-profits, schools, families, volunteers, tribes, faith communities, etc., and will occur through a variety of means
We will work to develop trust and strengthen shared values
Our work will strengthen community organizations
Teams will develop a continuum of information, services and supports to strengthen families
Communities will target interventions for families with complex and co-occurring risks
Community Prevention Plan Draft (coming soon)
Priority Project Budget Template (coming soon)
Meetings & Events
Notes and recordings from previous state-wide workshops
Spring 2023 Strengthen Families Locally Retreat: Healing Through Togetherness
Dates: March 24th, 4 PM - March 26th, 1 PM
Location: Wenatchee Conference Center and Coast Hotel
Activities: Presentations and shared learning with Strengthen Families Locally communities (Bremerton, Ferry/Stevens, Port Angeles/Sequim, and Spokane); Healing-Centered Engagement workshop; A Community Café, a Sense Making session; networking, connection, and relationship building to heal and strengthen families and communities.
Children's activities available! Children's activities include a Kid Café with opportunities for kids to think and share about health in their communities. Caregivers will be supported to accompany children and dependents.
Registration deadlines: 3/1 (early bird for hotel and children's activities reservations); 3/16 (late registrants may not have space at Coast Hotel and can be reimbursed for lodging at per diem rates)
Spokane Planning Meetings
3rd Monday of each month, 1:00-3:00 PM
Bremerton Planning Meetings
3rd Thursday of each month, 11:30-1:00 PM
Ferry/Stevens Planning Meetings 
1st Wednesday of each month, 2:00-4:00 PM
Port Angeles/Sequim Planning Meetings
4th Thursday of each month, 11:30-1:00 PM
Community Highlights